Historic Brill Building: soon to hit market
November 12th, 2012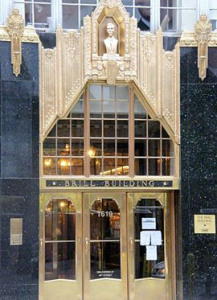 If you've lived in New York City for a decent period of time or you're a musician who has yearned to get his/her music published, you've heard of the Brill Building! It's a part of New York's music and entertainment history.
Built in 1931, the Brill Building is an 11-story office building located at 1619 Broadway at the corner of 49th Street, just north of Times Square and further uptown from the historic musical Tin Pan Alley neighborhood. Famous for housing music industry offices and studios where some of the most popular American music tunes were written, the building has been described as "the most important generator of popular songs in the Western world."
The "Brill Building Sound" is synonymous with artists such as Benny Goodman, Don Kirshner, Paul Simon, Burt Bachrach and Hal David, Neil Diamond, The Shirelles, Frankie Valli, Marvin Hamlisch, Carole King and many other noted musicians.
Carole King described the atmosphere at the 'Brill Building' publishing houses of the period: "Every day we squeezed into our respective cubby holes with just enough room for a piano, a bench, and maybe a chair for the lyricist if you were lucky. You'd sit there and write and you could hear someone in the next cubby hole composing a song exactly like yours. The pressure in the Brill Building was really terrific — because Donny (Kirshner) would play one songwriter against another. He'd say: 'We need a new smash hit' — and we'd all go back and write a song and the next day we'd each audition for Bobby Vee's producer." — quoted in The Sociology of Rock by Simon Frith (1978, ISBN 0-09-460220-4).
Now according to The Real Deal, Invesco a Dallas-based real estate giant is preparing to bring the historic Brill Building to market.
The international investment management firm's real estate arm will likely put the Brill Building on the market early next year, sources said. The last time this historic building traded hands was n 2007, when Invesco and Ofer Yardeni's Stonehenge Partners purchased it for $151 million from Murray Hill Properties and Westbrook Partners.
Murray Hill and Westbrook had previously bought it for $89.1 million from AVR Partners.
The Brill Building is named after one of its first tenants – the Brill brothers – whose clothing store occupied the ground-floor retail when it first opened. But those hallways just sing with musical history!