Manhattan's Most Expensive Megamansion No Longer The Most Expensive
August 20th, 2011
It just resold for $16.5M Less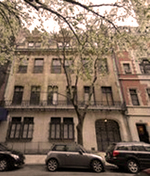 It was October, 2006 the era of bursting bubbles and new developments, yet a century-old townhouse smashed real-estate records.
The townhouse: The Harkness Mansion at 4 East 75th, a French-Renaissance masterpiece that was listed at $55 million, sold to investor J. Christopher Flowers for $53 Million. That was the biggest single residential deal in Manhattan history.
Runners-up included Tamir Samir's $40 million Duke Semans mansion and the $45 million penthouse at 15 Central Park West, which had not even been completed at the date of the sale to hedge-fund manager Daniel Loeb.
The Harkness Mansion seemed to be a bargain at 20,100 square feet. The sellers were Woody Allen's former producers, banker Jaqui Safra and his longtime girlfriend Jean Doumanian.
Since their late-80's purchase, the couple had not done much. They did a little work but never real renovations. The house needed a lot.
It has a 1,200-square-foot terrace, a center atrium, a skylight at the top, and a Ping-Pong table in the middle of the floor.
In the mid-60's, Standard Oil heiress Rebekah Harkness transformed the mansion into her illustrious Ballet Arts school.
Fast Forward to August, 2011 when the Harkness Mansion just resold for $16.5 Million less!
The mansion came back on the market this past December, with Flowers—who spent around $4 million to gut the place—hoping to get around $50 million for it. Interested buyers wanted to pay $40 million to $45 million.
Perhaps Flowers should have accepted one of those offers. Needing renovations or not† — the NY Post reported that Flowers agreed to sell the mansion to art dealer and gallery owner Larry Gagosian for a mere $36.5 Million!