August 24th, 2013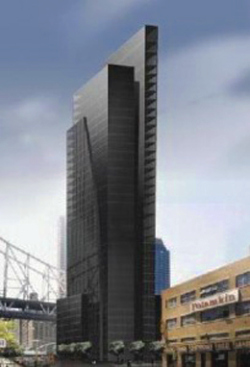 One hears the name Sutton Place and they immediately think of pre-war charm, Emery Roth, and the Silk Stocking District.
Sutton Place was originally one of several disconnected stretches of Avenue A, where space allowed, east of First Avenue. Effingham B. Sutton constructed a group of brownstones in 1875 between 57th and 58th Streets, and is said to have lent the street his name, though the earliest source found by The New York Times dates back only to 1883. At that time, the New York City Board of Aldermen approved a petition to change the name from "Avenue A" to "Sutton Place", covering the blocks between 57th and 60th Streets. The vacant block between 59th and 60th Streets is now considered a part of York Avenue.
Sutton Place first became fashionable around 1920, when several wealthy socialites, including Anne Harriman Vanderbilt and Anne Morgan, built townhouses on the eastern side of the street, overlooking the East River. Both townhouses were designed by Mott B. Schmidt, launching a career that included many houses for the wealthy. Shortly thereafter, developers started to build grand co-operative apartment houses on Sutton Place and Sutton Place South, including several designed by Rosario Candela. Development came to an abrupt halt with the Great Depression, and the luxury apartment buildings on the lower part of Sutton Place South (below 57th Street) and the northernmost part of Sutton Place (adjacent to the Queensboro Bridge now known as the Ed Koch Bridge) were not developed until the 1940s and 1950s.
Prominent residents of Sutton Place include architect I. M. Pei, former New York Governor Mario Cuomo, his son-in-law designer Kenneth Cole, and actress Sigourney Weaver. Former residents include Consuelo Vanderbilt Balsan, C.Z. Guest, Peter Lawford & Patricia Kennedy Lawford, Lillian Gish, Aristotle Onassis, Freddie Mercury, Michael Jackson, Bill Blass, Bobby Short, Percy Sutton, Joan Crawford, Richard Jenrette, Marilyn Monroe and her then husband Arthur Miller and Maureen O'Hara to name a few.
While Sutton Place is still the magical setting of the East 50's, its landscape is changing.
The new tower at 2 Sutton Place North, like its sister 1 Sutton Place North , pretty much identical buildings, bring walls of tall, dark glass to the neighborhood.
The new tower expected to be completed in 2014 will stand 43 stories tall and rise to 450 feet. 1 Sutton Place North has 234 rental units. Detail about 2 Sutton Place North are soon emerging.
These new arrivals on Sutton Place will add much value and class to the famed Silk Stocking District.